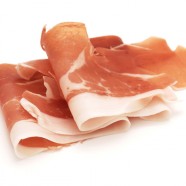 The Serrano Ham comes from white pigs bred intensively with fodders and cereals, unlike Iberian pigs. Its preparation process is carried out with very different maturing periods, and the Serrano ham can be classified as Gran Reserva if its curing is over 16 months, and as Serrano Ham if it´s 10 months.
The Serrano Hams with 10 months of curation present a refined meat with shiny appearance when cut. Its fine and delicate flavour is obviously due to the presence of fat that provides high content in oleic acid.
Its forms show the shiny fat of attractive appearance with a white yellowish colour, but wrapped inside with a pink purple colour on the lean side with a perfect salty flavour.
Formats
Available formats:
Whole Piece (bone in)
Deboned:

Whole Piece
1/2 Piece
1/4 Piece
Little Pieces
Small Pieces

Sliced – Machine: