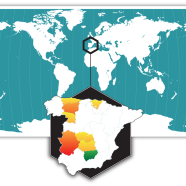 Delving into the most ancestral Spanish culinary tradition, iOlé was born with the firm intention to offer our customers the most exclusive products of Spanish gourmet.
Therefore we have carried out a careful selection of producers who combine the most handcrafted processing methods with the modern control systems ensuring the highest quality of our products.
In the Dehesa de Extremadura, Asturias and Sierra de Cazorla we find the nature as the best ally to provide the raw materials from which we obtain our hams and sausage, cheese and oil. Being aware of the importance of this medium we choose ecological production methods to guarantee their suitability so that generation after generation people could enjoy these delicacies.
We could guarantee that the delicacy will be brought to your table as we have carefully selected our products with a professional team that iOlé promises our clients.
We believe that you will find the best combination in iOlé that allows you to enjoy the gastronomic treasure of the Spanish nature.