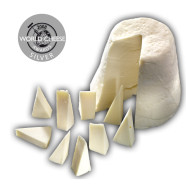 Fat cheese made with pasteurized milk from native cows of Frisona and Asturiana de los Valles.
White colour verging on yellowish, depending on its ripening degree.
Its taste is slightly acid, little salty or not salty at all, creamy and quite dry. For red cheese this flavour deepens and becomes strong and spicy. It is doughy and astringent when swallowed. Its aroma is mild, characteristic, and increases with the ripening.
Awards
2008: Gold Cincho Award: The Cincho Awards is the most important national awards and in this year it became an international award with the participation of 644 varieties of cheese.
2009: Silver Medal at The World Cheese Awards 2009, World Championship of Cheese held in the Alfredo Kraus Auditorium in Las Palmas De Gran Canaria where the participation reached 2400 types of cheese.
Format
Product format characteristics:
Place of Origin:

Pravia

Milk:

Pasteusized Cow

Shape:

Conical Trunk

Flavour:

Medium

Weight:

300 – 350 grams

Fat (min):

45 %