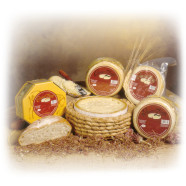 It is a fatty cheese made with 100% raw sheep's milk, coagulated with Vegetal Rennet by maceration of flower pistils from wild thistle (Cynara Cardunculus). Dry salted with iodized common salt by surface dusted.
Its paste is very soft, almost fluid, in which case it is very soft, sticky and melt, exhibing a thin and very sensitive to manipulation cortex.
With an intense, persistent and very complex flavor, but always emphasizing an elegant point of bitter finishing on the palate. Its characteristic odor does not identify its flavor, being very strong and intense, especially in the more liquefied cheese.
Format
Product format characteristics:
Place of Origin:

Badajoz

Milk:

Raw Sheep

Shape:

Cylindrical

Flavour:

Strong

Weight:

650 grams – 1,25 Kg

Fat (min):

50 %