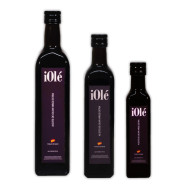 The concept of quality Platinum refers to the superior quality of this oil over other extra virgin oils. To achieve this, it's necessary to pay close attention and take great care in all processes (collection, crushing and conservation in wineries), which makes it a handmade oil that satisfies the most demanding palates.
Organolepic characteristics
It is an oil of intense fruity aromas dominated by green grass and fig tree, with certain touch of apple. It presents in the mouth a moderate bitter and peppery flavour, corresponding to its high content of natural antioxidants such as Vitamin E.
Instructions for use
The extra virgin olive oil from Picual olive is not only special for the raw use in toasts, gazpacho, Carpaccio…, but also for cooking and adding a touch of distinction to the best dishes such as fish and vegetables.
Storage conditions
Keep from direct contact with sunlight and humidity.
Life expectancy
18 months
Formats
Please see Price List for available formats.