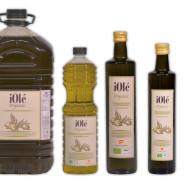 Our organic oil comes from olive groves located in the Sierra de Cazorla 100% organic crop. Its altitude and climate allow the Ecological Olive Oil to get top quality, which is made in an artisanal way using only olives carefully selected by mechanical means. This allows us to obtain high quality organic oil that offers clear advantages over conventional Extra virgin olive oils. iOle Organic Extra Virgin Olive Oil has EU Agriculture Economic Certificates and Quality Certificates from CAAE (Organic Farming Committee of Andalucía).
Organolepic characteristics
In the organolepic characteristics it shall be highlighted its fruity aromas dominated by green grass and fig tree, which presents in the mouth a moderate bitter and peppery flavour, corresponding to its high content of natural antioxidants such as Vitamin E.
Instructions for use
This product is suitable for all ages. It can be used both for cooking and seasoning for food.
Storage conditions
Keep from direct contact with sunlight and humidity.
Life expectancy
18 months
Formats
Please see Price List for available formats.