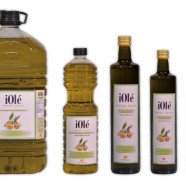 Our Extra Virgin Olive Oil is obtained by mechanical procedures from 100% Picual olives.
It has a great personality, presenting defined sensory nuances that make it easily identifiable in all the mono varietal oils. It is fragrant fruity oil with positive notes of bitter, spicy and astringent.
Organolepic characteristics
Soft and mature fruitiness, smells like almonds and ripe banana. It stands out for its sweet initial tasting and light bitterness and spiciness.
Instructions for use
This product is suitable for all ages. It can be used both for cooking and seasoning for food.
Storage conditions
Keep from direct contact with sunlight and humidity.
Life expectancy
18 months
Formats
Please see Price List for available formats.