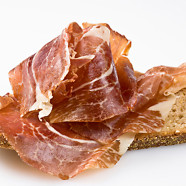 Unlike the Iberian Acorn-fed Ham with Denomination of Origin of Extremadura, the Iberian ham of Extensive Feeding is the one that gains at least 30% of its original weight with montanera diet based on acorns and grass, and later completing the feeding with fodders authorized by the Regulatory Council.
The controls carried out by this organization, allow the customers to enjoy a product with optimal characteristics and maximum qualities for the periods of curing.
With an extensive growth during all the time, we could differentiate the hams with fodder diet for their seal and green label D.O. DEHESA DE EXTREMADURA.
Formats
Available formats:
Whole Piece (bone in)
Whole Piece (deboned)
Sliced – Machine: