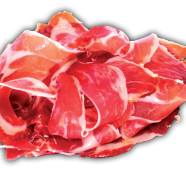 The same as Iberian Acorn Ham with curation more than 36 months, the Iberian Ham of Extensive Feeding with 24 months of curation comes from pigs fed on acorns in pastures, however in the last months of "montanera", they also have a supplementary feeding with fodders authorized by the Regulatory Council.
The pigs, always bred in extensive farms, develop a similar structure and characteristics to the Iberian acorn-fed pigs, but differ slightly in the final product because it doesn't present infiltrations of intramuscular fat that mark so much.
The fine pink meat and pleasant texture on the palate, with a flavour of sweet nuances, an intense aroma and attractive appearance when cut, is an authentic pleasure for those who taste it.
Formats
Available formats:
Whole Piece (bone in)
Whole Piece (deboned)
Sliced – Machine