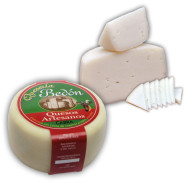 Bedón Goat Cheese has clean, uniform ivory crust, very fine and hard but with a smooth feel. The cut presents a uniform ivory white colour, with small, scarce and randomly distributed eyes. Fine surface and faintly moist feel.
It turns out to be characteristic the dairy aroma and smell with diacetylic tinges in perfect harmony, of mild intensity, pleasantly increasing as it matures.
Great harmony between the diary and ripening aromas in the mouth, with slightly spicy sensation, well integrated. Medium duration, smooth and balanced aftertaste that maintains the nuance of spicy sensation.
Format
Product format characteristics:
Place of Origin:

Llanes

Milk:

Pasteusized Goat

Shape:

Cylindrical

Flavour:

Strong

Weight:

500 grams

Fat (min):

45 %