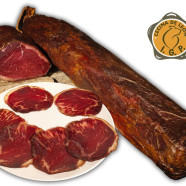 Dried Beef Cecina de León can be defined as smoked and dried beef meat coming from the hind leg of beef cattle.The outside part of the cecina has got a toasted brownish colour, light dark, which forms part of the elaboration process.
When it is cut, its colour is like cherry maroon, increasing in the borders at the end of the maturing process. Morevoer, it will present some light fatty embedded seams, which gives the cecina that juicy flavour. It´s a meat with a characteristic flavour, lightly salted and with a small fibrous consistency.
The pieces are presented as a whole or in portions and slices vacuum-packed.