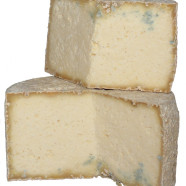 It's a handcrafted cheese made in the valleys of the region of Onis, in the west of Asturias. During its preparation we use the raw milk of cow, goat and sheep from the livestock producer, which allows us to control the raw material from which the cheese is made. The colour is white, with tendency to be slightly yellowish and it has blue-green blooms of Penicillium around the edges.
The process of production begins with the mixing of the three types of milk in a curdling barrel. There it starts to get heated and moved slowly until obtaining the adequate temperature and acidity, and then the rennet is added. The process of curdling takes about 2 hours, and then it is cut manually and the whey is separated from the curd, where the molds are introduced. After salting the exterior part, the cheese is passed to the smoke room where it will rest for at least 3 weeks for smoking. Finally the cheese is taken to a cave for at least 8 weeks of maturation.
The rind has a brown sienna colour with reddish, greenish and bluish tones due to the term in the caves and cellars. The texture is hard or semi-hard, firm and crumbly, becoming buttery in the mouth. It has a soft touch of smoke, clean and penetrating aroma and a slightly spicy taste.
Format
Product format characteristics:
Place of Origin:

Cangas de Onís y Onís

Milk:

Raw cow's, goat's & sheep's

Shape:

Cylindrical

Flavour:

Blue

Weight:

2 Kg / 500 grams

Fat (min):

50 %