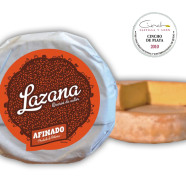 It is a refined handcrafted soft cheese made from pasteurized cow's milk. Its washed rind has an orange or light brown color, with some white penicillium mold, which is the result of the surface flora action.
Medium intense smell, which increases with the ripening. Because of the surface flora, the rind has a fresh smell, typical from mushroom and mixed with subtle notes that remind of fermented vegetables. The interior is softer with lactic shades of cream and butter, vegetables (hay) and moist soil.
It has a lactic flavour of soft yoghurt and slightly sweet (cereal) together with vegetal (herbal) and fruit (hazelnut) notes with a very pleasant aftertaste of butter.
Tasting with rind it gives a high persistence in the mouth and a stronger taste.
During chewing you can note certain elasticity, accompanied by a medium- high rate of adhesiveness and high solubility (melts on the palate). A very pleasant and fine granularity is appreciated.
Format
Product format characteristics:
Place of Origin:

Las Regueras

Milk:

Pasteurized cow

Shape:

Cylindrical

Flavour:

Medium

Weight:

300 grams

Fat (min):

50 %