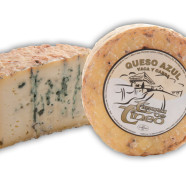 Blue cheese made from pasteurized cow and goat milk, lactic ferment, calcium chloride, rennet and salt. The minimum maturity is 60 days.
As a blue cheese, it is an irregular rind moldy cheese with a fairly uniform cut, with blue pigmentation spread evenly.
It is characterized by an intense aroma and a lasting and very nice flavour, with goat milk and clean dairy taste, butter, fungi and mushroom type. In month it is creamy, intense, tasty, a little salty and with nice touch of acidity; spicy with sensation that reminds of goat milk.
Format
Product format characteristics:
Place of Origin:

Tineo

Milk:

Raw cow's and goat's

Shape:

Cylindrical

Flavour:

Blue

Weight:

500 grams

Fat (min):

45 %